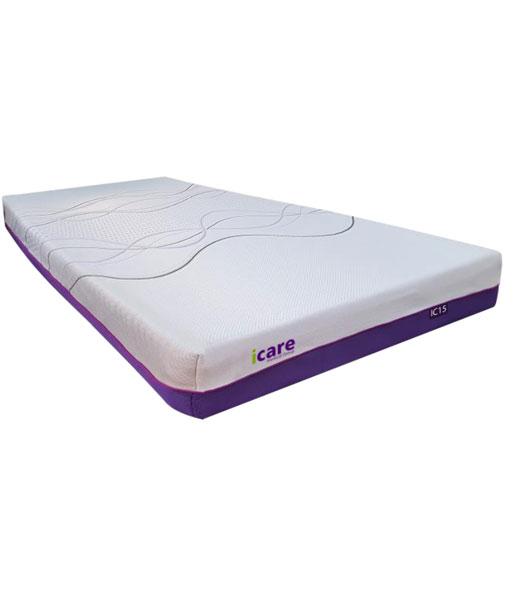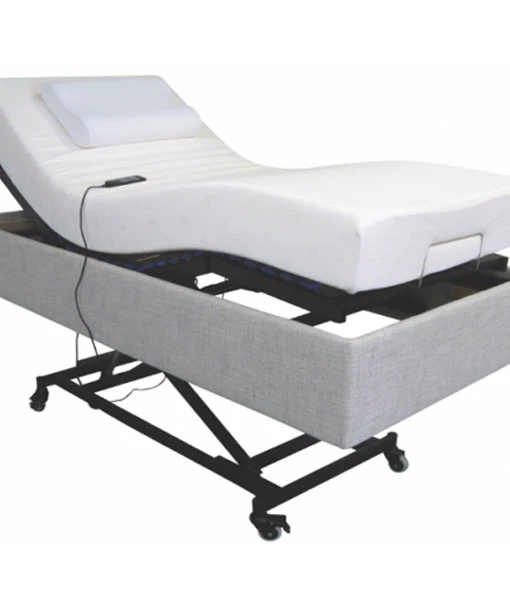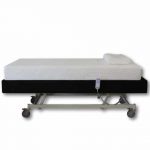 I-Care Luxury IC222 Homecare Bed Base & Mattress Bundle
available for orders up to $2,000.00 Learn More
The IC222 Hospital Bed is perfect for function and durability, providing great comfort , right at home. The I-care bed has a 4 function feature, with adjustable height.
10 Year Warranty. Made in New Zealand
» Hand Piece – Backlit for night time use. Easy press buttons. Wired stretch cord. Hook
attachment for hanging to side of bed. Wipeable.
» Fabric – Hard wearing commercial grade fabric. Vinyl is treated with antibacterial properties and waterproof.
» Under Bed clearance 135mm
» Mattress Surface – Strong metal mesh under mattress allowing increased airflow.
» Heavy Duty Actuators
» 4 Wheels – large lockable heavy duty swivel castors on each corner.
» Head Lift angle 62º
» Knee break angle 42º
» Height Adjustable – 30cm to 61cm from floor to top of base.
Description
Product Specification
Features
Product Enquiry
Brochure
FAQ
Ask A Question
Description
The I-Care luxury hospital bed is well suited to people with problems getting in and out of standard beds, allowing multitude sleep positions. The steel frame is made from high tensile steel and provides a superb foundation.
• Undertone and noiseless low voltage DC lift system
• Hospital grade castors that are lockable
• Available in long single, king single, queen.
• Ability to Raise/lower the entire bed up to 65cm
• Flexible slat system.
• A 200kg Heavy duty power battery back up
• A solo Ergonomic handpiece available at fingertips for easy controlling and adjustable comfort.
• Includes back up battery
• A head and foot lift that works independently
• Connected sensor safety systems connected
• 10 Year Comprehensive Warranty
Long Single
Code: IC222LS
Mattress Surface Size: 2030 x 900mm
Base Size: 2150 x 960mm
King Single
Code: IC222KS
Mattress Surface Size: 2030 x 1070mm
Base Size: 2150 x 1120mm
Additional information
Weight
N/A
Size

Long Single, King Single

Color

Black, Grey

Base Size

Long Single – 2150 x 960mm
King Single – 2150 x 1120mm

Mattress Surface Size

Long Single – 2030 x 900mm
King Single – 2030 x 1070mm
Features
Undertone and noiseless low voltage DC lift system
Hospital grade castors that are lockable
Available in long single and king single.
Ability to Raise/lower the entire bed up to 65cm
Flexible slat system.
A 200kg Heavy duty power battery back up
A solo Ergonomic handpiece available at fingertips for easy controlling and adjustable comfort.
Includes back up battery
A head and foot lift that works independently
Connected sensor safety systems connected
10 Year Comprehensive Warranty
Product Enquiry
Icare Homecare Mattress Brochure - Download