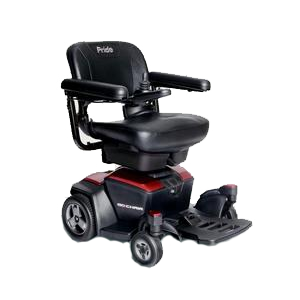 What is a power wheelchair?
A power wheelchair (also called an electric wheelchair, motorized wheelchair or automatic wheelchair) is like a manual wheelchair, except that it is powered by a rechargeable battery so you do not have to propel the wheelchair by hand. Instead, the user controls the speed and direction of the wheelchair through easy-to-use controls on the armrest.
As a mobility aid, a power wheelchair can help you live independently – whether you are in your own home, out doing the shopping, attending appointments, or at work.
What types of power wheelchairs are there?
Although the current range of wheelchairs for sale offers plenty of different features, they can generally be categorized into three different model types: rear wheel drive, mid wheel drive or center wheel drive and front wheel drive.
This is the most common and recognizable power wheelchair model. The drive wheels are located at the back, which makes the wheelchair quite stable. The downside is they can be hard to man-oeuvre in tight spaces, as they have a smaller turning circle compared to other models.
Factors to consider:
Rear wheel drive wheelchairs are a stable option that drives smoothly, is suitable for outdoor and indoor use, and drives well at higher speeds.
They can be hard to man-oeuvre in tight spaces because they have a large turning radius.
Many models have an anti-tip feature which prevents the chair from falling backwards when going up hills.
A choice of folding wheelchair or fixed frames are available on many models
Easy-to-use hand controls are usually mounted on the arm of the chair.
Adjustable seating is usually available for comfort.
Mid wheel drive wheelchairs sometimes called 'center wheel drive' wheelchairs have the drive wheels positioned in the middle part of the chair instead of at the rear. This makes a significant impact on how the chair drives and the amount of space needed for turning.
Factors to consider:
Mid wheel drive chairs have a low center of gravity. The drive wheels are directly under the user, which can make them feel more stable to the user.
They need less space to turn in, so are well suited to tight spaces and indoor use compared to a rear wheel drive wheelchair.
The front and rear castors keep the overall wheelchair stable, but they can sometimes get stuck on uneven surfaces, or the center wheel can sometimes be suspended when going up and down curb edges with a steep transition.
A front wheel drive wheelchair has the drive wheels located at the front of the chair, making it suitable for uneven terrain and off-road outdoor use.
Factors to consider:
This is a rugged power wheelchair or off-road wheelchair which is stable when used outside on uneven terrain, hills or going over small obstacles.
A front wheelchair typically has a smaller turning circle, making them easy to use in tight spaces at home.
Heavy duty construction is suitable for bariatric use by higher weight users.
No castors at the front means there is more space for your feet.
Care needs to be taken when turning, as most of the chair's body is located in the back of the seat.

What features does a power wheelchair usually come with?
Modern technology means that the current range of power wheelchairs for sale comes with a wide range of features that are designed to improve usability, safety and comfort. Some features to look out for in electric wheelchair models on the market are:
Front wheel, mid wheel and center wheel drive (you can find out more about these options later on in this guide)
Extra storage – such as a basket or room underneath where you can place your shopping
A compact frame – a power wheelchair is much shorter than a scooter, making them easier to man-oeuvre when indoors
Easy to transport – folding wheelchairs and lightweight wheelchairs make it easy to travel
Small turning circle – this makes it easier to move the wheelchair around a tight environment
A steady walking pace – most wheelchairs reach a speed of around 5 km an hour so you can go about everyday life at a normal walking speed
High back seats, arm rests and footrests – these can vary, with some wheelchairs offering adjustable seats and arm and footrests. Look out for a model that meets your support needs and comfort levels
LED marker lights – for safety when out and about
Flexibility – some wheelchairs can easily transform into a standing wheelchair, allowing the user to do more things

What do I need to know before taking my wheelchair out in public?
In Australia, you do not need a licence in order to use a power wheelchair out in public, nor do you need to register a power wheelchair (the exception is in Queensland, where you will need to register your motorized wheelchair with the Department of Transport and Main Roads if you are using it outside. You can find more information on this page of the Queensland government website
It's always a good idea to consult a healthcare professional (e.g. your occupational therapist or physiotherapist) or GP to ensure you are safe to take a power wheelchair out in public. Avoid busy roads and always cross at marked pedestrian crossings, as this will help ensure your safety.
Check if your Home and Contents insurance policy covers your motorized wheelchair – if not, you may need to take out additional cover in case of theft, loss or damage. Also consider where you will store your power wheelchair when you are not using it. You will need to keep the chair near a power outlet so you can recharge the battery.
If you are planning on using public transport, most options in Australia are accessible and wheelchair-friendly. For more information, visit the Accessible travel section of your state's Transport website for NSW, you can find wheelchair-friendly information on their website on how to plan your trip and where to position yourself for assistance.
Who uses a power wheelchair?
A power wheelchair can benefit many people with impaired mobility, such as those who have a disability that limits their ability to use their legs those who experience a chronic condition that makes walking short distances difficult, or those are no longer able to operate a manual wheelchair and need an aid that is easier to use.
What should I consider when buying a power wheelchair?
Buying a motorized wheelchair is a significant investment, so you want to take the time to choose the model that you are happy with. Speak to your health professional (e.g. an occupational therapist, GP or physiotherapist) as they can guide you towards a model that will best suit your needs when you are looking at wheelchairs for sale.
To cover all your bases, here are some questions to ask when making a purchase:
Where will you be using your electric wheelchair? If you will be inside most of the time, you may want a lightweight wheelchair that is compact with a tight turning circle. If you plan on taking the wheelchair outside, consider the kind of terrain you will be moving through. If you live in a hilly area, it may be worth choosing a wheelchair that can handle rugged surface, such as a front wheel drive wheelchair.
Will you need to transport your wheelchair from place to place? A folding electric wheelchair that is easy to stow away makes travelling by car or van convenient.
Is the wheelchair suitable for your weight? In Australia, distributors are required to list the maximum support weight that each powered and manual wheelchair can safely support, so check this limit before making your purchase. Bariatric wheelchairs are also available, with a comfortable seat and the ability to support a higher weight capacity.
Is the electric wheelchair fitted to your size or adjustable to your needs? To maximize your independence, make sure the wheelchair seat is suited to your size (about 2-4cm gap on either side of your thighs) and your legs and arms are in a comfortable position.
Are you comfortable in the seat of the chair? A high back chair may be appropriate if you need extra support.
How often will you be using the chair? If you plan on using your automatic wheelchair every day, make sure the model you purchase is good quality and optimized for long-term use.
Are you able to operate the controls? Get a feel for the chair's controls (usually a joystick located on the arm of the chair) and make sure your hand is strong enough to operate it.
Can the chair fit in the doorway of your house? Check the measurements of your doorways to make sure any wheelchair you purchase can easily fit inside your home.
Do you need extra storage? If you plan on taking the chair out for errands or shopping, consider buying one with extra storage for convenience and usability.
Can I buy a power wheelchair with NDIS or Home Care Package funding?
Yes you can. Wheelchairs are categorized as 'assistive technology and depending on your individual plan or level, you can apply to use your NDIS funding or Home Care Package to purchase a power wheelchair, manual wheelchair or transit wheelchair.
Mobility Caring is a registered NDIS and Home Care Package provider of wheelchairs and other independent living products. We can help you put your funding towards a high quality product that will best meet your needs.
How often do I need to get a power wheelchair serviced?
In general, it is a good idea to get your power wheelchair serviced at least once a year (though this may vary depending on the model check your user's guide on purchase).
If you need advice, repairs and maintenance on your mobility equipment, we are more than happy to help. Book in for a service online through our website booking page.