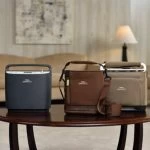 Respironics SimplyGo Mini

The SimplyGo Mini is the newest, smallest, and lightest member of the Right Fit portfolio of oxygen products from Philips Respironics. This portable oxygen concentrator is designed and rigorously tested to be reliable and durable in real-world environments, undergoing the same testing regimen as its counterpart, the proven SimplyGo POC. A convenient and portable concentrator that will fit in with your lifestyle and meet your needs.
Description
Product Specification
Features
Product Enquiry
FAQ
Ask A Question
Description
At Philips Respironics, we have earned our reputation for designing and building excellence into all of our products. Now, with SimplyGo Mini, you can enjoy an exceptional portable oxygen concentrator which delivers continuous and pulsed oxygen delivery in a lightweight and compact design.
As the smallest and lightest POC ever developed by Philips Respironics, SimplyGo Mini is simply smart design: built for today's users with features like an attractive and sleek design, easy-to-remove external standard battery, light weight intuitive function, easy-to-read screen,  and a strong, comfortable carrying case. It delivers up to 96% oxygen concentration at all settings, offering true reliability as a stationary concentrator. 
The Respironics SimplyGo includes a standard rechargeable lithium ion single battery, DC and AC power cords, accessory bag and user manual. The extended battery provides a duration of up to 9 hours, so you can enjoy flexibility and freedom. This device is part of a complete portfolio of oxygen solutions, products and programs inspired by users, and is a great option for users who want to stay on the go.
 *A valid prescription from a doctor is required for you to be able to purchase medical oxygen.
Additional information
| | |
| --- | --- |
| Weight | 2 kg |
| Brands | Philips |
Features
The SimplyGo mini portable concentrator features:
Small and light unit design
low noise level when in operation
Attractive and sleek look
Light weight and intuitive
continuous flow and pulse-dose delivery
Large oxygen output to meet oxygen patients' needs
It provides immediate access to the SimplyGo Mini's 5 Pulse Dose settings and device tools for a personalized therapy experience. 3. (thecpapclinic.com.au)
Easy-to-read touchscreen interface and intuitive control panel
offers pulse dose flow settings from 1-5. The higher the pulse oxygen setting, the shorter the battery life.
Strong and comfortable carry case
Easy to remove external battery – comes with one standard lithium ion rechargeable  battery
DC and AC power cords
accessory bag and user manual
Provides up to 4.5 hours with the standard battery and up to 9 hours  with the extended battery (battery duration times based on new, fully charged batteries used with a new SimplyGo mini system)
Product Enquiry