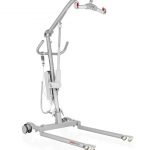 Eva600 Drive Patient Lift Hoist
EvaDrive is a new motorized lift that drastically reduces the force required for patient transfer and lifting. Even in the smallest of spaces, EvaDrive requires little strength and effort to operate.
EvaDrive is operated intuitively and with minimal force. The control handle responds to gentle fingertip movements and is precise enough to maneuver EvaDrive in very small spaces, such as when repositioning patients in small hospital rooms. EvaDrive turns, reverses, and moves forward with a gentle touch of the control handle. EvaDrive knows where you want to go – and gets you there.
Description
Product Specification
Product Enquiry
FAQ
Ask A Question
Description
Features
Intuitive control panel
Sensitive control handle
Forceful lithium battery
Turnable back wheels
Additional information
Brand

SystemRoMedic

Safe Working Load

270 kg / 600 lbs

Total Unit Weight

Weight (with battery)
64 kg / 141.1 lbs

Weight (without battery)
60 kg / 132 lbs
Product Enquiry