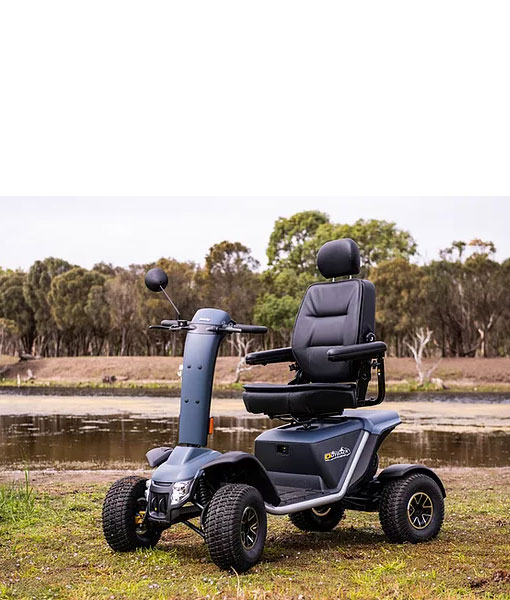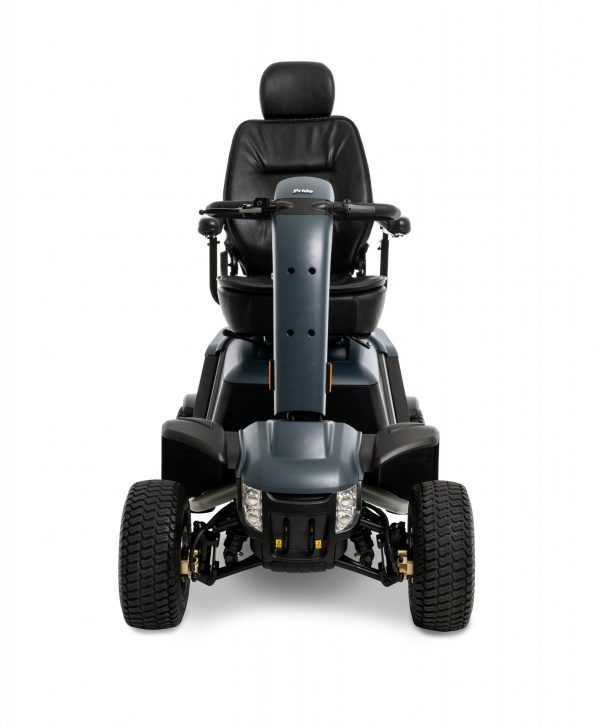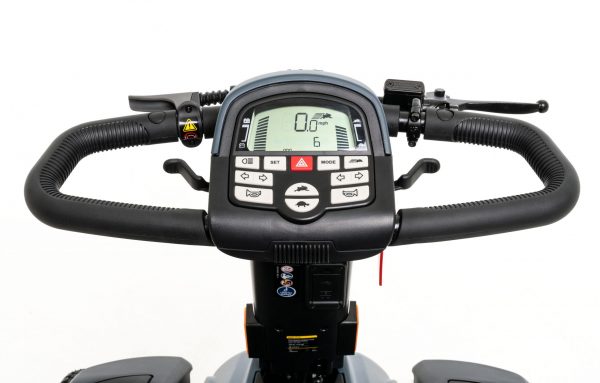 Pride Outback Mobility Scooter + Free Rear Bag


Introducing the new Pride Outback Mobility scooter, full of grunt and power! Rugged and built to last, this outback scooter – a standout in the Pride mobility scooter range –  is especially designed for cruising on walking trails, driving around your property or sight-seeing on holidays.
Equipped with front and rear suspension, this aggressive scooter allows users to enjoy total visibility with complete LED lighting. With a user-friendly console and dual hydraulic brakes for added safety, it's is the perfect way to embrace life in the great outdoors!
Features include:
75 inch turning radius and 41km range
7 Peak HP dual motors (5740 watts)
storage compartment for convenient travelling
CTS suspension includes adjustable shocks for greater comfort
User-friendly LED console displays time, temperature, distance driven and trips taken
Adjustable delta tiller with ergonomic wraparound handles
Description
Product Specification
Specifications
Features
Product Enquiry
FAQ
Ask A Question
Description
The Pride Outback Scooter ticks all the boxes. Rugged and built tough, perfect for Australian life, this scooter is ideal for all of your outdoor needs. If you love being outside and enjoy the sunshine, this standout from the Pride mobility scooters range will take you smoothly along footpaths, walking trails or driving around a property.
FREE rear scooter bag with crutch holder with every purchase.
Additional information
| | |
| --- | --- |
| Weight | 156 kg |
| Brands | Pride |
| Warranty | 2 years of warranty on the mobility scooter and 6 months on batteries. |
| Front Wheel: | 37 cm |
| Rear Wheel: | 37 cm |
| Dimensions: | 156 (L) X 83 (W) |
| Weight Capacity: | 159 kg |
| Per Charge Range: | 41 km |
| Battery Spec.: | 2 X 100 Ah |
| Turning Radius (cm): | 243 |
| Seat To Deck Height: | 53 cm |
| Seat To Ground Height: | 80 cm |
Specifications
159 kg weight capacity 

243 cm turning radius 

Up to 10 km/h maximum speed 

Up to 36 km per charge at 91 kg 

Limited recline, black vinyl, high-back seat with lumbar and pillow-top headrest, flip-up height, and angle-adjustable armrests

Storage compartment

CTS Suspension includes adjustable shocks for greater comfort

Dual hydraulic brakes

Full LED lighting package includes headlights, hazard lights, rear backup sensor LED lights and directional signals

User friendly LED console displays time, temperature, miles driven, and trips taken

Adjustable delta tiller with ergonomic, wraparound handles

USB charger built into the tiller for convenient charging of smart phones and portable devices

Durable and stylish rear bumper

Backup sensors with LED light
Features
The outback Pride scooter is built to deliver comfort along with a robust ride. It's the ideal way to embrace the outdoor lifestyle with peace of mind. Features include:
75 inch turning radius
Limited recline black vinyl, high-back seat
7 Peak HP dual motors (5740 watts)
41km Range
storage compartment for convenient travelling
CTS suspension includes adjustable shocks for greater comfort
User-friendly LED console displays time, temperature, distance driven and trips taken
Adjustable delta tiller with ergonomic, wraparound handles
USB charger built into the tiller for convenient charging of smart phones and portable devices
Durable and stylish rear bumper
Easily accessible tie-down points (for convenient and safe transport of an unoccupied scooter)
Full LED lighting package includes headlights, hazard lights, rear backup sensor LED lights and directional signals
Weight capacity of 159 kg
Product Enquiry