Top 10 Mobility Aids At Mobility Caring
Mobility Aids and the importance
Mobility aids are intended to assist people in walking and other various daily activities.
Most senior citizens and differently abled people usually need assistance with their mobility and these aids are created and tailor-made precisely to boost the safety and freedom of the user.
Mobility devices are the best inexpensive solution for people who need assistance frequently.
Although it is prevalent for the aged and the differently abled people to need mobility aids in comparison to others, these can also be made use by those recuperating from temporary injuries, illnesses or surgery.
Types of Mobility Aids
Some of the popular mobility aids are walkers, wheelchairs, scooters, dual motor lift chairs and patient lifters.
Nitro Elite Carbon Fibre Sean Walker
This is a smooth rollator seat walker designed for easy and fast movement and foldable to extremely compressed size. The height of the handle could be adjusted by pushing a button and equipped with a durable and comfortable seat.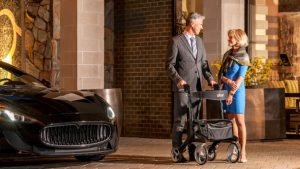 Sean Walker with Basket-Aus care/Days
This seat walker has a lightweight aluminium frame and is equipped with a curved padded backrest loop lever that is lockable and washable handbrake with soft rubber hand grips for hygienic purposes.
Karma Ergo Lite Deluxe Wheelchair
This wheelchair is one of the lightest wheelchairs in the Karma range. It is self-propelled and equipped with removable footrest hangers with a seat that promotes pressure redistribution.

Karma Ergo Lite-Transit Wheelchair
This equipment is equipped with a seating system that prevents the user from slipping forward and promotes pressure relief. Being one of the lightest and foldable wheelchairs, it is the best equipment for transporting easily.
Invacare Colibri Mobility Scooter
This scooter is ideal for those who revel in a fully independent lifestyle. It is a modern, simple and lightweight scooter.

Genie Plus Travel Mobility Scooter Automatic Folding
This is an uncommon electric mobility scooter that could be folded and unfolded as when needed.
Full Body Sling
This is a comfortable full body sling offering good support for the back and additional support for the head. It fits most patients and is suitable for lifting patients from flat surfaces.

Invacare Birdie 180kg Patient Lift Hoist with Electric Legs
This hoist is equipped with an ergonomic lift and enables the patient to be rotated 360 degrees, making it easier for the caregiver and patient. It could be dismantled without using tools.
Pride C6 Recliner Lift Chair
This lift and recline chair has been created to be the best in style, comfort and performance. Its state-of-the-art lift system can recline the user further back than most other lift chairs. It is equipped with detachable upholstery, elements and a dual motor for the operation of recline and footrest movement. It is also equipped with a battery backup system to combat emergency power failure.

Theorem Concept Alperton Lift Chair
This lift chair is equipped with dual motors for the unaided operation of the backrest, leg rest parts and power for extra lumbar and headrest adjustments plus providing various positioning preferences.
The above products are available at Mobility Caring Australia.
How to make payments through Humm or Afterpay
Afterpay or Humm is a buy now, pay later service applicable in many online and in-store Australian stores.  After a request is approved and a credit will be granted with a shopping account. A period of 8 weeks will be granted to pay back the full amount, with four interest-free instalments every two weeks.
Any person over 18 years, a permanent resident or citizen holding an Australian passport, medicare ard or Australian driving license, have a permanent job of at least 25 hours a week or on aged/veteran's pension or has an Australian visa or Mastercard, debit or credit card is eligible to apply for Humm or afterpay.