Wheelchair Varieties You Need To Know About
Ever since wheelchairs came into production, many innumerable types of wheelchairs have been produced within a span of maybe half-century. Various types ranging from manually operated to tilting and reclining power wheelchairs are now freely available in the market.
Here, we discuss the various kinds of wheelchairs, their functions and the pros and cons to educate and enhance the knowledge when the necessity arises to look for the correct assistive technology.
Manual Wheelchairs
Manual wheelchairs are chairs with wheels that could be propelled by the user's hands or pushed by a caregiver. It could be pushed forward and backwards by gripping the handle around the wheels. It could also be pivoted and there are also handles behind the backrest to assist anyone standing behind the wheelchair user.
Various types of wheelchairs are available to tackle any situation. For instance, lightweight and portable wheelchairs come in handy when travelling, as these could be folded and placed conveniently into a vehicle. On the other hand, heavy-duty wheelchairs are more sturdy, long-lasting and capable of holding more weight.
Manual wheelchairs are ideal for people who can operate on their capabilities. But the only problem is that they could get tired quickly especially when travelling far distances or using it on their own for long hours. Further, continual use of manual wheelchairs without attempting to spending time in a standing position too can result in health issues.

Mobility Caring has an array of manual wheelchairs in their stores and Omega SP1 Self-Propelling Wheelchair (Blue/Gold/Red), Drive Medical S1 Steel Wheelchair, Karma Ergo Lite–Transit Wheelchair, Omega Lite—Transit Wheelchair and Sunrise Medical Breezy BasiX 2 Wheelchair are five popular products in their portfolio.
Powered Wheelchairs
Wheelchairs powered by electricity, or battery, are termed powered wheelchairs. This equipment is driven with the use of controls. A power-driven wheelchair like this is the best solution to combat fatigue as well as impairments that curb the use of manual wheelchair.

One drawback of a powered wheelchair is that it is heavier than a manual wheelchair. However, it depends on the territory it is used, as a powerchair requires a battery and motor at a minimum for mobility. Out of the many types of powered wheelchairs, a basic powerchair offers the user to drive around and it is usually operated with hand steering and controls and is one of the different types of wheelchairs manufactured.
Drive Medical Titan Power Chair,  Pride Jazzy Passport Travel Power Chair, Pride Go Chair New Generation and Pride Jazzy Select Elite HD Power Chair are 5 popular power chairs in addition to many other brands available at all our Mobility Caring stores and online store.
Positioning Wheelchairs
Positioning wheelchairs enable the user to move into different positions in their wheelchair. Usually, these wheelchairs are electric or powered by a battery. Currently, there are different types and styles of positioning wheelchairs in the market.
For instance, some of them can recline backwards, the user's feet and legs can be raised and lowered, and some allow the user to automatically tilt in space. Some chairs provide multiple movements while some can do only one kind of positioning.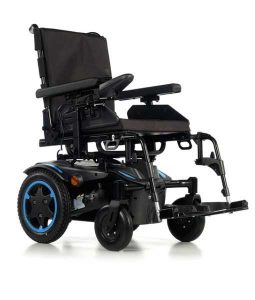 Quickie Q100 Power Chair, Drive Medical Titan Power Chair and Q200 R Rear Wheel Powered wheelchair are some of the positioning wheelchairs available at Mobility Caring Australia.